Fabulous Kirkus Review for Angel Hero!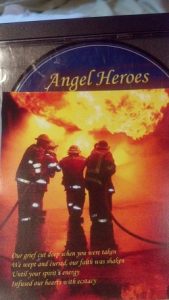 In December, I received a terrific review for my book Angel Hero from Kirkus (whoo hoo!) Here's the link in case you want to go there directly: https://www.kirkusreviews.com/book-reviews/lizbeth-hartz/angel-hero/, but I'll also publish it below.
In their review, Kirkus designated Angel Hero a novel and gave it a wonderful review. However, this second edition is actually a fictionalized memoir. "Fictionalized" only because the names, dates and locations were
I wrote the lyrics for a song titled "Angel Heroes," and had it demoed in Nashville in 2005.
changed to protect the innocent. Thanks, Kirkus, for changed the author note from "novel" to "fictionalized memoir." I'm proud that the Kirkus reviewer found this true story compelling and well executed in all aspects, and thought it read like a psychological thriller with spiritual overtones as well as a tense, well-realized police procedural with a memorably resilient heroine (me!)
Here's the review:
Angel Hero
Inspired by a True Story
by Lizbeth Hartz
KIRKUS REVIEW
A psychological thriller with spiritual overtones set in Hawaii.
Lizbeth Hartz, the levelheaded and high-spirited heroine of this fiction debut by an author of the same name (in an Author's Note, she mentions that the stories in her fictionalized memoir are drawn from real life), thinks her humdrum life of shuttling between a boring job and her ongoing search for a shining prince to sweep her off her feet has finally turned around. She has been hired as a dispatcher for Whaler Air Force Base in central Oahu, and among the memorable characters she meets here is Vic Lazzarini, tall, tanned, soft-spoken, and courteous.
Vic is the first male co-worker Liz has ever encountered who treats her with good humor and respect, and she begins to become comfortable daydreaming about him and innocently flirting (at first, she takes it no further, because she has a boyfriend). She's far less comfortable around short, disreputable, creepy Jaku Cardoza, an islander with an angry edge, and she can't understand the friendship the two men seem to have. The plot catapults into action early on when Vic is found murdered, shot to death by none other than Jaku, who's out on bail alarmingly soon and free to pose a danger to Liz.
The author displays a wide array of skills in this taut, fast-paced novel. She's adept at evoking the atmosphere and day-to-day feel of both contemporary Hawaii and the sometimes high-pressure world of a dispatch operator (the workplace drama elements of the book are well-handled throughout). Her characters feel fleshed-out, even when they're unsavory, and her dramatic sense for slowly, expertly unfolding the police investigation into Vic's death is surefire. Her cops sound and act like real cops (usually a notorious weakness of novels like this). Readers should find the well-orchestrated climax satisfyingly gripping.
A tense, well-realized police procedural starring a memorably resilient heroine.