A Braided Essay: These Dreams of Love II
I Become – Part 2
After telling Sasha I would talk to my father, I was relieved when Mom said Dad didn't want to talk to me. We didn't know how to talk to each other adult to adult, only father to child, me being the child who wasn't supposed to talk back. Leaving my parents' home where I was taken care of but dependent and miserable scared me. I couldn't stop crying. I hurt inside as I stepped onto the ledge of the unknown world.
For the next few months, I attended more encounter groups. I learned how to "accept what is" and to "own" my reactions. My tears had already taught me the truth of Sasha's words, that growing self-awareness could be a painful process. When I was annoyed by someone, I began asking myself, "What don't I like about myself that irritates me about this person?" Immersed in pain, I felt like it would never end, but gradually my nightmare dissolved, my tears stopped flowing, and my breath became deeper and slower.
A couple of weeks after my last encounter group, my new awareness settled in. Soon after that, at Hanauma Bay on Oahu's windward side, brisk trade winds flung white sand, coating my wet legs. Resting my back on a beach towel cushion against a hot black rock wall, I savored the warmth of the sun on my cheeks and nose. Sitting beside fellow encounter group member Andria, I inhaled the scent of her coconut suntan lotion. The sound of retreating and crashing waves soothed me.
The blue-green ocean undulated, sparkling in the sunshine. Trade winds ruffled the surface, turning the dark green sea into white caps. Ocean droplets cooled my face from surging waves splattering over black rocks, my tongue catching the salty drops dripping from my forehead. The sun's heat lulled me into a meditative state. I peered at the horizon, thought about so many millions and billions and trillions of droplets merging into one big ocean.
In one magical moment, I became aware that I was a single entity, whole, like the ocean. My consciousness turned into a cresting wave, a waterfall of nectar flowing from my heart. I tuned in, somehow knowing that Andria was thinking she wanted to drink a cold coca cola, and that the blond surfer striding by thought she was oh so sexy. I marveled at having this telepathic moment. I feared no one and nothing. I felt so alive.
Later that year, after Mom and Dad retired to Arizona, I went to visit them and my twin sister, Lucy, who was on vacation from her job in Texas. Mom and I hugged and talked, but Dad and I were stiff and silent in each other's presence. Back then, I was collaborating with a local musician, writing lyrics he put to music and published on his CDs. I'd written fanciful lyrics about Dad and Mom titled, "Happy Feet," and sang it to Dad in my off-key voice. The song began:
"Thirty something years ago,
Liz and Lucy both said, "So,
It's time to pick a mom and dad,
To teach us good, and right from bad,
Two little spirits, up in space,
Looked down on earth and saw your face,
Blue eyes twinkling, happy grin,
Lucy said, "That man's a ten!"
Liz and Lucy watched some more,
They watched him twirl her on the floor,
Lucy said, "It sure looks good,
With them we would be understood.
You just can't beat
Those two swell kids with happy feet!"
Dad laughed and we hugged.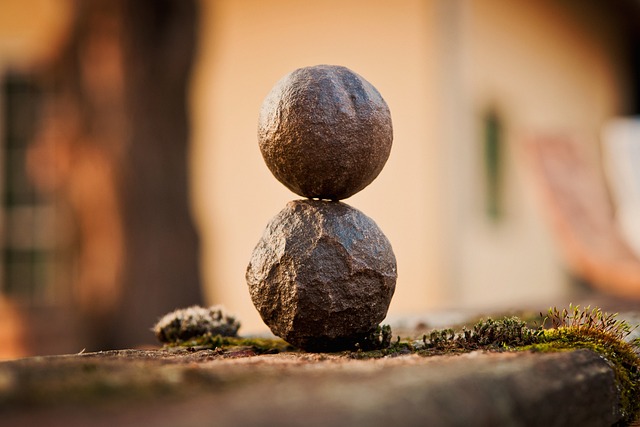 Barry and Van – Part 2
In 1971, around the same time I was serenading Dad, Barry's commitment to learning Directional Non-Force Technique (D.N.F.T.) from Dr. Richard Van Rumpt deepened after he witnessed Van adjusting a rugby player from Australia.
Van could tell by the way Barry adjusted his fellow students in a class at a Chiropractic college in L.A. that he was working long and hard at learning and practicing Van's difficult techniques. Trusting Barry's ability, Van referred Tim, a rugby player with an injured neck, to him. At first Barry told Tim that he didn't have the chops to pull it off, but the man insisted, saying that if Van said Barry was alright, then Barry was alright with him.
Barry got the Aussie's neck back into alignment and Tim got better. Then he played Rugby again. The next thing Barry knew, the athlete was in the UCLA hospital with his neck in one of those metal cages that made it impossible to move even a millimeter. His doctors said, if he moved his head, he'd be paralyzed from the neck down.
The player phoned Barry from the hospital, "Man, you've got to come up here and fix this," he said, "because my neck's really screwed up and they're screwing it up more."
Barry told him, "No, I'm not going to come to the hospital, it'll get me in big trouble."
Tim pleaded, "Please help me."
Barry thought about it. "Are you willing to check out of the hospital for the day?"
"Hell, yes! Watch anybody try to stop me! It's my head, ain't it, mate?"
Barry phoned Van, saying, "I'm going to bring Tim, the injured athlete you referred to me, to you."
"The hell you are!" Van said. "I don't want to see patients on the weekend."
Barry kept pestering until Van said, "Okay, okay! Bring him here."
Barry picked up Tim at the hospital and drove him to Van's home. Van removed Tim's head gear and executed his usual perfect D.N.F.T. adjustment exactly as he'd been teaching it. Barry kept his focus fully on Van, committing his teacher's extraordinary moves to memory. Moves which Barry learned so thoroughly that, years later, Van chose him to be his successor.
Barry continued to learn and improve. I reaped the benefits of Van's teachings as well, for Barry was able to fix my back when no one else could. I'm forever grateful to both teacher and student.
After Van's adjustment, Tim stood up from the table and moved his head around like nothing had happened to it. Barry thought, it's a miracle. The rugby player gestured wildly and yelled excitedly, his words unintelligible.
Van kicked them out of his house. "Get the hell out! I don't have time for you guys!"
Years later, Barry told me, "Van was a radical man. He was so honest. He didn't know how to fake it. He was just Van at all times."
The only thing Tim talked about when Barry drove him back to L.A. was stopping for a beer. He must have appreciated Barry's help, though, because nine years later, in 1980, he was still sending Christmas cards, the latest ones to Honolulu where Barry'd started his own chiropractic practice.
A decade later, my friend Marianne recommended Barry because of his gentle yet powerful chiropractic skills. From the very first session, Barry's adjustments helped my body. Later on, our kindred-spirit conversations soothed my mind. He fixed my back and eased the pain in my tailbone, injured by another chiropractor with a crack-and-snap technique.
I enjoyed talking with this former physicist who'd found his calling in D.N.F.T. chiropractic while he worked his magic on my body and mind in the wee hours. I joyfully anticipated appointments with Barry, considering my time in his quiet penthouse office with the moonlight shining through the windows to be a refuge from my ho-hum clerical job beneath fluorescent lighting in the headquarters building on Whaler Air Force base.
In July, 1998, unknown to me, Barry broke up with his unfaithful lover. In September, after I sobbed in his office about my boyfriend's betrayal—how he gave me his email password so I could help him write a school paper, whereupon I saw the guy's torrid emails to another woman—Barry shared how he'd discovered his girlfriend's love letters to a guy on Kauai she regularly met up with. A few months after that conversation, we started dating.
The first time we kissed was on a Saturday. I'd driven to his office for an adjustment, knowing that, afterward, he would take me for a drive in his hot red Jaguar convertible. I felt nervous—Barry had been my chiropractor for 8 years, and his friendship was the sun in my sky. I didn't want to risk losing it or throwing an awkward wrench into our heartfelt conversations.
The song "This Kiss" by Faith Hill played on my car radio, giving me "chicken skin," as the Hawaiians say, as I felt the unstoppable joy the singer sang about.
I was still flying high on the thought of romance with Barry when he parked his car in the shade of a monkeypod tree. Intuitive man that he was, he tuned into my feeling of ecstasy.
"Do you feel that?" Barry asked me, as we sat in his car, parked in a shady spot next to an empty park. I felt tongue-tied and shy and couldn't say a word, until he added, "Don't tell me I'm feeling this all by myself."
"No, you're not," I stuttered. "I have such sweet feelings for you."
Kissing Barry filled me with more joy than Faith Hill could have imagined.
We moved in together, our conversations deepening along with our relationship. I liked when he spoke of energetic experiences while adjusting patients. One such occurrence happened when he adjusted me in January, 1999, when my stomach was cramping from worry about my twin sister, Lucy, who was undergoing brain surgery for an aneurism.
Barry was adjusting me on his portable table in our living room, the trade winds blowing through plumeria trees, wafting a fresh, sweet, flower scent through the screen doors of our second-floor balcony.
"Oh, God, Barry. What if she dies?"
Barry was silent for a few moments before saying, "Her spirit's reaching out to you. I feel her all over you."
"You do? Oh, Lucy, hang on, honey. Will she survive?"
Another pause, longer this time. "Yes. She'll be fine."
And she was.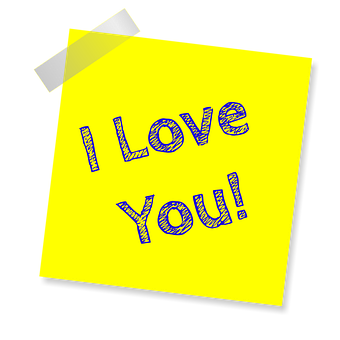 Barry worked out, ran marathons, meditated, and helped his patients. The night we became lovers, I saw white light shooting from the top of the head of this man whose touch felt like a blessing. I called him Ashtar the Magnificent and wrote him a song titled The Doc Who Always Gets It Right. He called me Lizzybeth and his last valentine. He wrote me love notes on yellow Post-its and tucked them under my computer mouse before he drove to Honolulu while the moon was still high in the sky.
Barry soon asked my mother for my hand in marriage (Dad had passed a decade before). This delighted both Mom and me to no end. Barry and I (mostly I) started planning the wedding. Little did I know that Barry would soon encounter competition from a handsome and humorous weightlifter…well, not competition so much as determination to do his guardian angel duty of making sure Barry treated me right.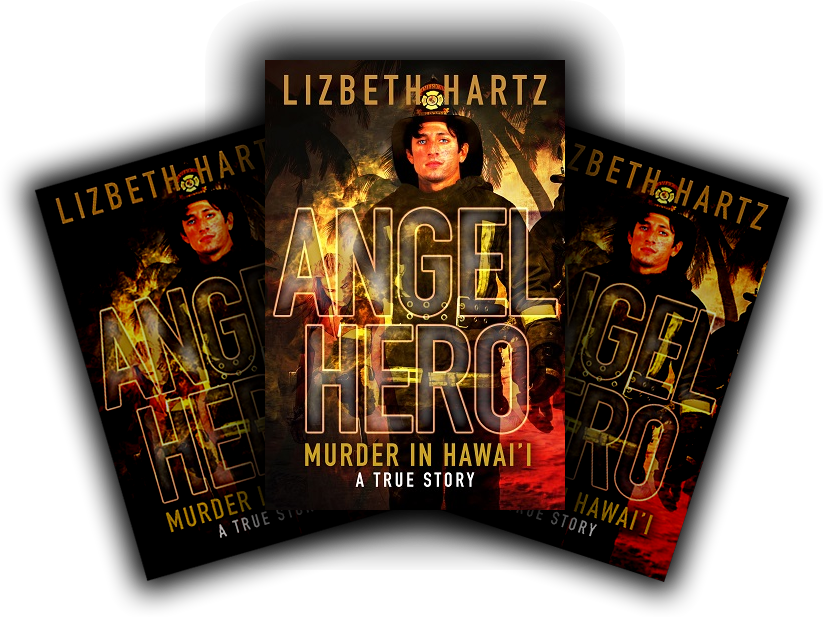 Angel Hero, Murder in Hawai'i, A True Story – Part 2
In January, 1985, thirteen years before Barry and I started dating, Jaku was passed up for a promotion and took sick leave from the fire station for six weeks. On the day he had to return to work or be fired, his neighbor heard him and Vic arguing in Jaku's garage, after which Jaku shot at Vic six times with a .357 magnum at close range. Four bullets pierced Vic's body, two bullets missed, shattering the concrete floor beside the spot where Vic's body fell.
The year before, I'd read Jaku's palm at a party at work. I had taken a palm reading class one weekend in the late 70s, learning mainly about the head, heart, and lifelines. My teacher had also touched on murderer's thumbs—how they look squashed and swollen. How people with such thumbs would explode like a volcano when angered and reach for the closest weapon.
Gingerly touching Jaku's sweaty palm, I suppressed a gasp at the sight of his thumbs, and told no one lest they think me airy fairy. A thousand times since then, I've worried and wondered if things have been different if I'd warned Vic about the violence constantly simmering beneath Jaku's slick surface. Would Vic have believed me, or would he have told me, like he told others, "Aww, Jaku's just a funny little guy trying to act big."
At his murder trial, Jaku claimed self-defense, saying Vic came at him with a gun. "I thought it was Vic's .38!" he lied. I didn't find out until then that Vic owned a .38, and that the police found it in his studio apartment on top of his neatly made bed. The concrete fragments piercing Vic's fallen body revealed that Vic's hand had been moved, the fingers wrapped around Jaku's own broken pellet gun.
I showed up at the scene after a fireman coworker, Tony, pounded on my front door, jarring me out of the sleep I'd fallen into after my midnight shift. We ran to Jaku's cordoned off garage, spotting Vic's red S10 Chevy truck parked inside the yellow police crime scene tape. Resting the form a police lieutenant handed me on the red roof of Vic's truck, I wrote a statement: "Vic was a straight arrow and all-around good guy. Don't believe a word he says. He's a liar and a thief. He bragged about his Mafia connections, and hurt people, or had them hurt."
I felt numb, my nerve endings dead. The detective asked us if we'd like to see Vic's body, hidden from view on the floor of Jaku's garage. "No," Tony said. "I've seen a lot of bodies, but this is one body I don't want to see."
Back at my apartment, I sank to my knees and prayed for a dream to tell me what the argument was about. No dream came that night or the next week or ever after because it had come seven months earlier, on the night my boyfriend Billy left me and moved to the Big Island.
Most of us thought Jaku was coming to work to murder the Chief that morning (he'd passed Jaku up for a promotion) and Vic was trying to stop him. Homicide Detective Jet pressured me to make a statement. Knowing Jaku would send someone after me if I testified against him, I bought time by telling Jet I'd think about it.
Three days after Vic's death, my numbness grew nerve endings and grief had its way with me. I shook with great, gulping sobs until I was all sobbed out and saw Vic as clearly as a blue sky on a sunny day, clasping his chest, amazed and delighted to still exist. He dropped a corner of his mouth, like he'd done when he teased me, and said, "Can't you see, Lizzy? I'm right here."
That was the first time I felt Vic's spirit. He could make the wind blow like a brisk trade wind, dead leaves swirl like a small whirlwind around my shoes, the overhead light in the assistant chief's office adjacent to the alarm room blink on and off, all accompanied by a feeling of unstoppable joy. I dreamed of him carrying me over the threshold of his studio apartment on our wedding day.
One rainy night, after I'd held back on telling Detective Jet about the conversations between Jaku, Vic, and me over the past 3-1/2 years of working emergencies together, I felt Vic's spirit in a different way. Felt his grief. I heard his low, deep voice inside my head. His pain was palpable, his words clear inside my mind: "You didn't tell the whole truth for me."
The truth of his words cut me to my core. Fear of Jaku had turned me into a coward, unlike courageous Vic, who never let fear derail him. I absolutely knew that Vic would have told the whole truth for me.
I scribbled notes in my apartment for hours, filling ten sheets of yellow paper, front and back, writing about everything that had happened over the past 3-1/2 years between me, Vic, and Jaku. Every cruel and frightening thing Jaku had told me when I was his captive audience in the alarm room. Everything, even though doing so might mean having to testify in court against Jaku. I just wasn't afraid anymore.
Soon afterward, I came across the dream I'd dreamed seven months earlier. I suspected I'd had the dream the night my boyfriend Billy left because that's when I first became a potential victim in Jaku's eyes. Everything tumbled into place like dominoes falling. Only then did I realize that the muscular arm in my dream belonged to Vic Lazzarini, and understood that my funny, handsome friend, the heartthrob I fantasized about, died protecting me.
I believe God gave me the answer to my prayer seven months before I prayed because, like the Bible says, God knew what I needed before I even asked. I consulted a local Vietnamese psychic who told me Vic loved me and was saying: "Leave her alone! She's mine, and you're getting in the way."
At the trial, which ended in October, 1985, Jaku was convicted of first-degree murder. I started writing my memoir that same year (retitled Angel Hero, Murder in Hawai'i, A True Story after Jaku died in 2015). When I was immersed in a deep place inside myself, writing about Vic, his spirit presence sometimes raced into my space, still like "Greased Lightning" (Vic's nickname at the station because he jumped so quickly out of his bunkroom bed, into his turn-out gear, ran to his pickup truck and screech-wheeled it out of the station before any other truck.) Knowing he was with me and all that implied filled me with ecstasy.
I was still writing Vic's story when I met Barry five years later.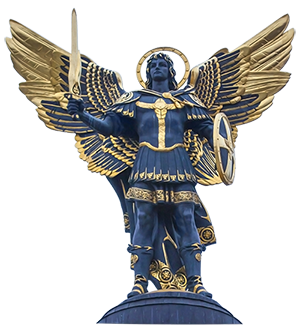 Epilogue – The Threads Come Together
In 1998, Barry moving in and sharing his life with me felt like a dream come true. Still, I loved Vic dearly, delighting in his presence, and hoped my guardian angel wouldn't fade away.
It wasn't long before intuitive Barry told me, "Hey, this really big, cheerful guy wrestled me a couple of times in my dreams."
I said, "That big guy has got to be Vic."
Barry didn't say anything, and neither did I, because neither of us knew what to say.
That night, I fell asleep worrying Vic would stop "moseying on by" now that I lived with Barry. A few hours later, I woke up remembering Vic's energy surrounding me like an aware, joyful cloud, infusing me with the knowledge that he was cool with "that righteous Ashtar dude" because he made me so happy.
By the time morning sunbeams sliced through the jalousie window glass in the bedroom, Barry had already left for work. He tucked a note under my computer mouse pad: "I let Sleeping Beauty sleep. Let's talk tonight. Love, Barry."
That evening, as we lay skin to skin, Barry confided, "I might be a wee bit jealous of Vic."
My stomach knotted. "I hear you. I'd be a whole lot jealous if your old girlfriend tackled me."
Barry laughed.
"Vic wasn't my lover," I said, and thought, until after he died. My heart pounded against Barry's chest as I speculated that Vic was just doing his guardian angel duty and checking Barry out. "Vic's perceptive, because he sees how good you are for me. He's unconditionally loving, too, because he's happy for me, that I'm happy with you."
"And me with you." Barry pressed me closer. "Thanks for sharing, eh? Okay, I get it—Vic's not a rival. I'm good with you loving your knight in armor, so no need worry, worry, worry, you silly rabbit. But will you tell him enough with the body slams already?"
I had to laugh.
Barry added, "I'm grateful to him and God, for giving me you."
"Gracias, mi amor. I'm so very grateful for you, too."
"You're my last valentine, Lizzybeth."
"And you're mine, Ashytar."
I awoke the next morning counting my blessings, that at 50 years old I had found a man who found me enough; a man so secure within himself he could really hear me.
The spirit of Vic continued to "mosey on by," reminding me that love never ends. He especially liked to drop in when I immersed myself in writing about him.
Coming: Part 3 – The final revelations unravel the mysteries that bind them together.


Did you miss part of this story?
Part 1
Part 2
Part 3
---